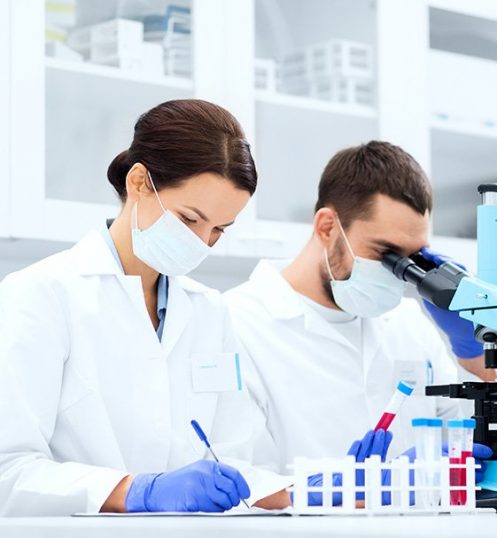 Biogenea pharmaceuticals is staffed by reputable highly specialized scientific staff regarding the provision of reliable and integrated hematopoietic & mesenchymal stem cell storage services for therapeutic purposes, and for this purpose it has its own laboratories for the processing of stem cells and proper chambers for the cryopreservation of stem cells  according to the principles of  cGMP (Good Manufacturing Practice), as explained in accordance with the content of the 2003/94 Community Directive regarding drugs and experimental drugs for human use and the 2004/23, 2006/17 Community Directives on the setting of quality and safety standards for control, processing, maintenance, storage and disposal, among else, of products made by human tissues and cells intended for human applications.
Biogenea Pharmaceuticals Ltd constitutes the only company in Europe that can proliferate and use ex vivo umbilical cord and adult primordial stem cells for therapeutic applications and clinical studies thanks to the relevant transfer of know-how from NASA's research laboratories and the protocol of ex vivo stem cells proliferation published by the Directory of Clinical Laboratory in the prestigious independent review magazine American Journal of Stem Cells.
Biogenea Pharmaceuticals Ltd established worldwide the normal range for the hematological parameters of umbilical cord blood, published in the prestigious international scientific journal LabMedicine, which was republished by one of America's largest medical journals, Stem Cell Week, belonging to one of America's largest publishers, NewsRxTM. Biogenea Pharmaceuticals Ltd's scientific staff published the protocol of isolation, processing and cryopreservation of Wharton's jelly mesenchymal cells of the umbilical cord tissue in the prestigious international scientific journal, In vitro cellular animal and developmental. At the same time, results of the basic research on the differentiation of hematopoietic stem cells, but also with the processing of umbilical cord mesenchymal cells are announced at scientific conferences.